Face shapes are part of what makes us unique, and picking the right frames for your glasses helps draw attention to the facial features you love while highlighting your individual personality and style.
Your face shape isn't the only thing you should consider when choosing glasses after an eye exam—everyone has their own tastes and preferences—but looking for frames that complement your natural features can be a great place to start.
Because tastes differ, there isn't necessarily 1 type of glasses that suits heart-shaped faces, but some of the best glasses for heart-shaped faces include:
Round and oval glasses
Aviator glasses
Cat eye glasses
Rimless glasses
Square and rectangular glasses
Oversized glasses
2-tone glasses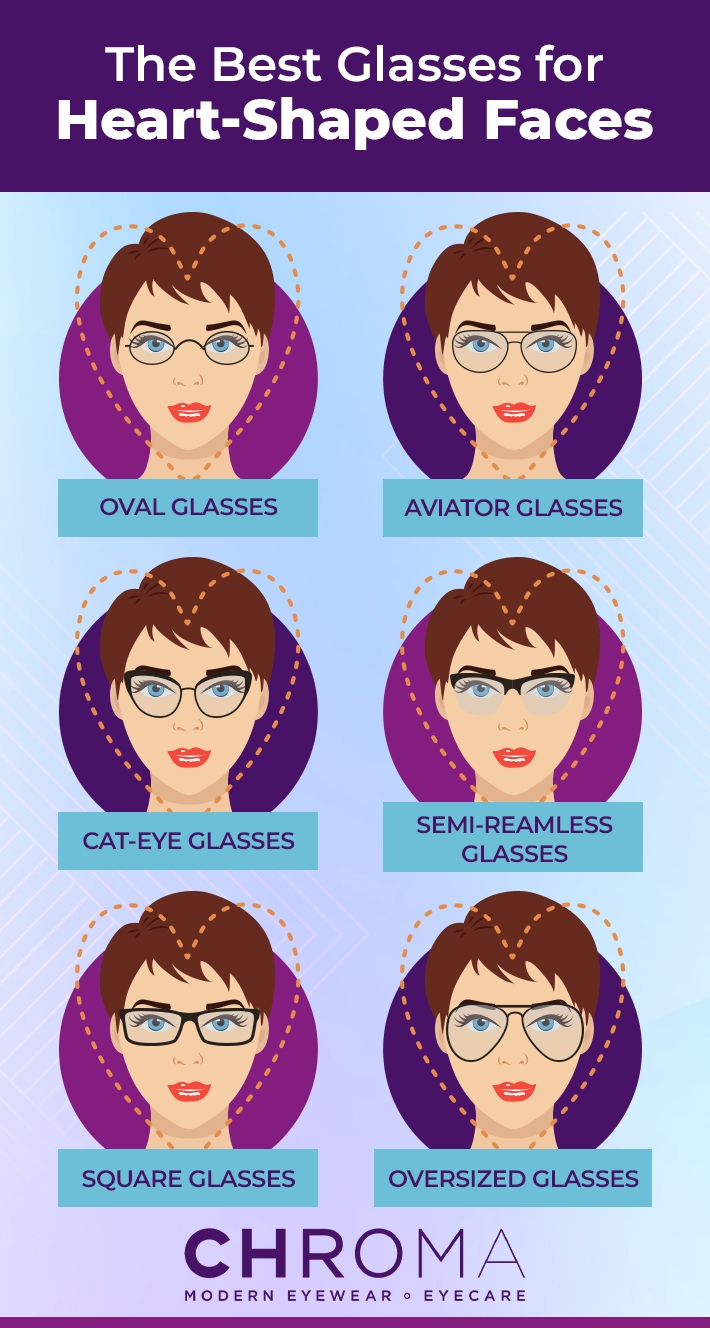 Our Favorite Glasses for Heart-Shaped Faces
The glasses we often recommend for those with heart-shaped faces have frames that bring balance to the bold lines and beautiful curves of heart-shaped features.
Some of the styles our team at CHROMA loves include frames that achieve balance through contrast, while others have features that fit harmoniously with heart-shaped faces.
Round & Oval Glasses
Round glasses styles have an even, symmetrical look that can balance out the asymmetry of heart-shaped faces and draw attention to your eyes. Because some round glasses can be bigger, they may also highlight your cheekbones—which can be good or bad, depending on your preferences.
Oval glasses, with their slightly narrower shape, can be particularly fitting for heart-shaped faces because their shape still draws attention to the eyes and adds balance with less of a risk of highlighting features you may not want to showcase.
Aviator Glasses
Aviator frames that were originally popularized by brands like Ray-Ban can now be found in almost all of the frame lines that we carry at CHROMA. They also aren't just for sunglasses—and their tall, tapered shape can be excellent for adding balance to heart-shaped faces by contrasting with and flowing toward narrow, pointed chins.
Wayfarer glasses are another common style of frames with a wide top and narrow bottom that can have the same effect as aviators.
Cat-Eye Glasses
Because heart-shaped faces often have wider foreheads, the upward tip of cat-eye frames can be wonderful for creating a balanced, proportional look that emphasizes the contours of your natural features.
Rimless Glasses
Rimless and semi-rimless glasses are frame styles that can create a light look, and the bold browlines of semi-rimless glasses can blend with stronger facial features without overshadowing subtle features.
The precise, almost elusive look of rimless glasses also pairs well with the angled jawlines of many heart-shaped faces.
Square & Rectangular Glasses
Square glasses often have a tapered frame shape that can add natural width to balance out heart-shaped faces without drawing too much attention to your forehead and cheeks—the parts of heart-shaped faces that are naturally wider.
Rectangular frames can also balance out the angular lines and smooth curves of a heart-shaped face, but they also come with the potential to add extra width you may or may not want.
Oversized Glasses
If you want to emphasize the natural width of your features, oversized frames can be perfect for a heart-shaped face. The large profile of oversized glasses helps faces feel larger partly by drawing attention to naturally large features and away from smaller features like a pointed chin.
2-Tone Glasses
Heart-shaped faces are characterized by a duality of features—defined angles and smooth curves. 2-tone glasses can build on the natural duality of heart-shaped features by combining different colors, patterns, and textures in a single frame to create unity and balance in your look.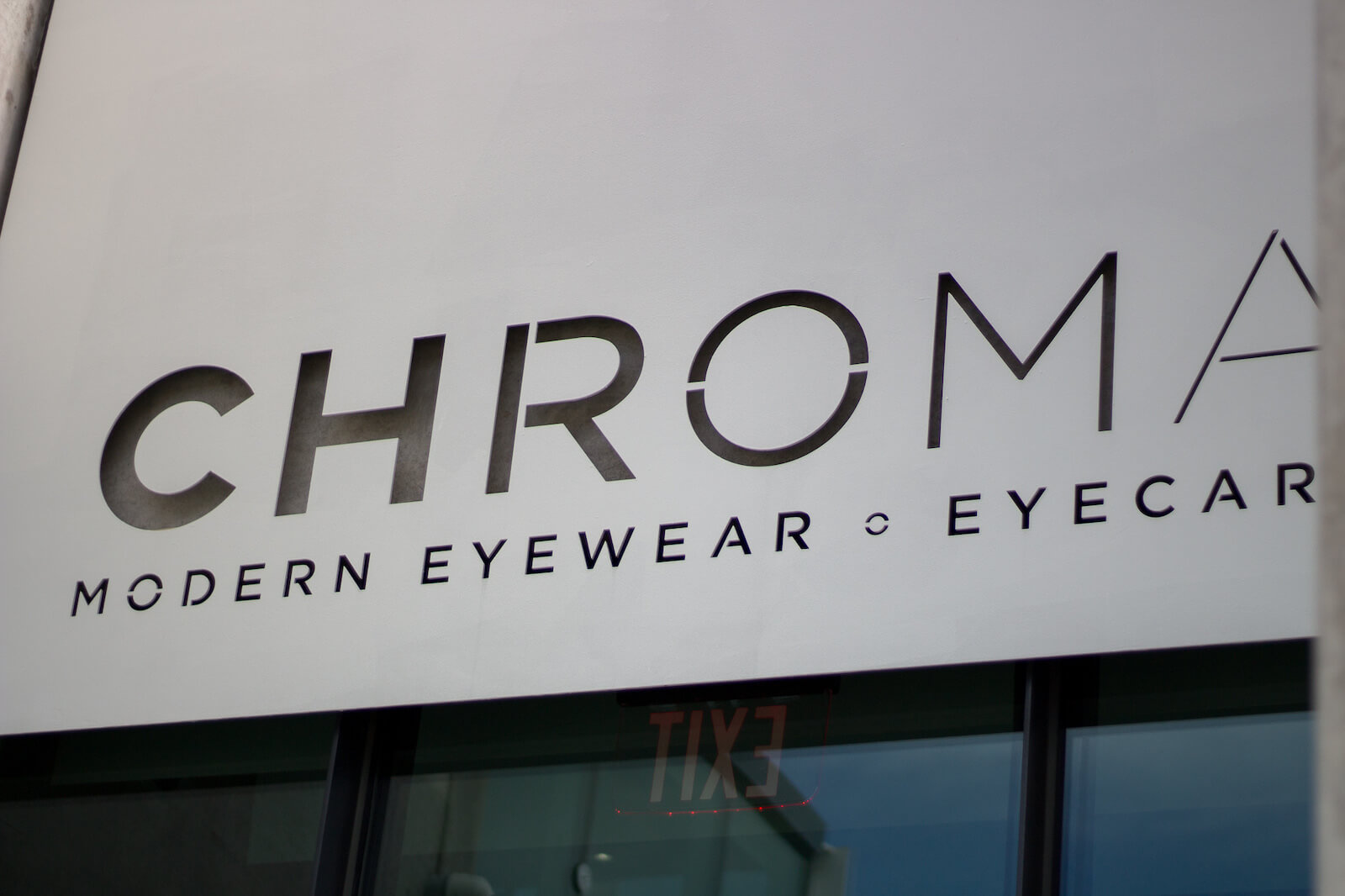 What Is a Heart-Shaped Face?
Face shapes are largely determined by the relative width and proportions between the top, middle, and bottom portions of the face. Heart-shaped faces are usually wider at the forehead, have higher cheekbones, and naturally taper down toward a pointed chin—like a cartoon drawing of a heart.
What Are the Common Features of a Heart-Shaped Face?
Aspects of a heart-shaped face can vary, but they generally have features that resemble a heart when put together.
Some of the common features of heart-shaped faces include:
A broad forehead
High cheekbones
Round cheeks
Subtle jawlines
Angular, pointed chins
A pointed hairline (a widow's peak)
How Do You Measure Your Face Shape?
There are face-measuring apps you can download and use with a smartphone to get an approximate measurement of your face. You can also use the video feature of a smartphone to examine your face from different angles.
The mirror method also works well for measuring your face shape. Simply look into a mirror and use a dry-erase marker to outline the reflection of your face in the mirror. If you want to get detailed measurements, you can use a ruler to measure the top, middle, and bottom of the outline you draw in the mirror.
Find Glasses You Love at CHROMA
Finding glasses you love can depend on your personal preferences as much as your face shape. Start by thinking about the types of glasses you like and what your goals may be for your glasses.
Do you want glasses that make you look younger? Do you have a preference between affordable and luxury eyewear? When you visit us at CHROMA modern Eyewear Eyecare, we can help you consider your face shape, your personal taste, and your vision needs so you can find glasses you love. It's always a great time to refresh your eyewear.
Reach out to us to set up your comprehensive eye exam and enjoy our expert guidance in discovering your next cherished pair of glasses. For your maximum convenience, feel free to call, text us, or book online.