As with anything we wear, eyeglass frames ride the style wave. What was trendy 10 years ago is no longer "cool" or "hot." It can be hard to keep track of it all.
Fortunately, there is a way to choose timeless eyeglass frames that can make you look and feel younger. We're here to help!
Measure Your Face
There are frames out there that can make you look younger, but first, you have to know what kind of frames suit your face! But first, you need to know your face shape.
Measuring your face shape consists of the following steps and measurements:
Step 1: Measure Your Face Length
To measure the length of your face, start from the center of your hairline and end at the tip of your chin. Try not to curve your measuring tape.
Step 2: Measure Your Forehead
Measure the width of your forehead from the end of each eyebrow. Don't curve your measuring tape!
Step 3: Measure Your Cheekbones
Measure from the outermost edge of one cheekbone to the other. Again, try to avoid curving your tape.
Step 4: Measure Your Jawline
Start at the tip of your chin and measure the length from your chin to the end of your jaw on one side of your face. Multiply this number by 2 to get your jawline measurement. Don't curve your tape!
What's Your Face Shape?
Now that you have your measurements, it's time to figure out what face shape best matches you!
Round Face
A round face is exactly as it sounds. Your face is close to the same height and width, and you have soft curves on your cheeks, chin, and forehead. Your cheeks are likely the widest part of your face.
Measurements: (Face Length ≈ Cheekbone Width) > (Forehead Width ≈ Jawline) [Rounded Jaw]
Square or rectangular frames are usually wider than the wearer's face, which can make your face appear slimmer or longer and balance out your round features. We recommend avoiding round and small frames, as well as any frames that are rimless. These features can make your face look much larger than it is.
Oval or Oblong Face
An oval face is longer in height than width, but has soft curves like a round face. Your face is slim and your cheekbones are probably the widest part of your face.
Measurements: Face Length > Cheekbone Width & Forehead Width > Jawline or Face Length > (Cheekbone Width ≈ Forehead Width ≈ Jawline)
Geometric frames with a prominent bridge are a great choice for people with oval faces. It's best to choose frames that are wider than the broadest part of your face to create balance. We recommend avoiding overly large frames that cover more than half your face as these can throw off your natural symmetry.
Square Face
A square face is like a round face because it is usually close in height and width. You usually have sharper features, like a square chin and a sharp jawline.
Measurements: ​​Face Length ≈ Cheekbone Width ≈ Forehead Witch ≈ Jawline [Hard Jawed]
Oval or round frames that sit higher on your face can help soften the angularity and make your face appear slimmer. We recommend avoiding boxy, pointed frames as they can make your face appear bulky.
Diamond Face
A diamond face has some sharper edges and is characterized by a narrow forehead and chin. Your jaw and cheeks are probably in line with a natural point toward your chin.
Measurements: Face Length > Cheekbone Width > Forehead Width > Jawline
Frames that swoop up, like cat-eye frames, and are wider than your cheekbones, like oval frames, can accentuate your delicate features. We recommend avoiding boxy, narrow frames as these can make points of your face appear more narrow.
Heart-Shaped or Triangular Face
A heart-shaped face has a wider forehead and narrow chin. You likely have soft curves on your face and your cheekbones are wider than your chin. Your chin is likely pointed and slim.
Measurements: Forehead Width > Cheekbone Width > Jawline [Pointed Chin] or Jawline > Cheekbone Width > Forehead Width
Road or square frames with curved edges can help balance your face shape. Choose frames with low-set temples and a bottom-heavy frame line to create symmetry. We recommend avoiding styles and colors that draw attention away from the lower half of your face.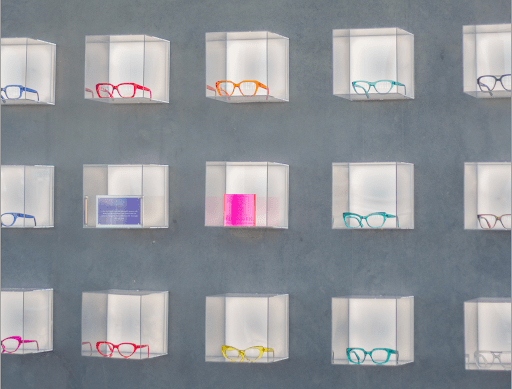 Frames to Refresh Your Look
Shape
Certain frames will complement the natural shape of your face. Choosing frames that uplift your face can make you look younger. You can find uplifting frames in basically any shape, too!
You may want to consider choosing frames that soften your natural features. For people who want their frames to make them look and feel younger, cat-eye frames or upswept rectangular frames with rounded corners can achieve a younger feel.
Remember: A well-fitting pair of glasses should not touch your cheeks.
Color
Generally, warm-colored frames can make you appear younger. Warm tones suit most faces, especially browns, burgundies, berry tones, and jewel tones. Of course, you should choose a color that suits your skin tone.
It can also be helpful to choose shinier materials to give your eyes an extra sparkle. We recommend avoiding flat or matte colors, like plain silver or black. This might feel a bit out of your comfort zone at first, but if you can find a color you love, you'll be amazed at how well your natural features can stand out.
Size
It's best to avoid frames that are small vertically. Not only do you have less lens area to see through, but these short frames can make anyone appear older.
Larger frames are in right now, too. You can play with more space—more color, better shapes, and better visibility. Just remember to choose a flattering shape. Your frames should accentuate your face, not hide it.
Other Tips
Consider Your Lifestyle
The frames you choose are going to be with you for at least the next year. You want something you love, but you also want something that will work for your day-to-day life.
If you're on the computer a lot, you may want to explore lenses with a blue-light coating. If you're frequently inside and outside, you may want transition lenses. Make sure your frames can accommodate your lifestyle needs!
Consider Your Preferences
This might seem like a no-brainer, but it's probably the most important tip. Choosing frames you love is the only right choice!
Explore different options until you find something that really fits you.
The CHROMA Difference
At CHROMA modern Eyewear Eyecare, we're confident we can help you find the frames you love. Our team is passionate about finding the right frames for everyone we see. You are unique. Your glasses should be, too!
We have a wide range of frames and brands to match whatever style fits you best! If you're interested in learning more about our brands or are looking for help from our opticians on selecting the right frames, stop by our practice today!
We're Here to Help
For advice on the right frames, information about new prescriptions and lenses, or any eye care needs, we're here to help.
Our expert opticians take pride in helping you find frames that suit your style. Our advanced technology ensures we get your measurements just right so you can see clearly and confidently.
Contact us today to find the best frames for you!