Picking frames that suit your face is only part of the eyewear choosing process. One should also consider how they will protect their eyes from the sun. For this reason, getting prescription sunglasses is often worth it.
Prescription sunglasses offer several benefits such as comfort, style, convenience, healthy, or multiple lens options. It's one thing to say they're worth it for an arbitrary reason like convenience. But the protection they offer from the sun suggests you shouldn't consider them optional.
Importance of Wearing Sunglasses
To better understand prescription sunglasses' benefits, let's examine why they're important. It's important to note that the sun itself isn't harmful when considering the harmful effects of the sun. Instead, the ultraviolet radiation (UV) it produces is what's harmful. Tanning beds could be another source of harmful UV rays.
The Earth's atmosphere does block out some UV rays. But there is much radiation that makes it to the ground that can damage our eyes. Potential diseases or conditions that UV radiation can cause include:
Cancer (in the eye or eyelid)
Growths like pinguecula or pterygium on the eye
Increased risk of Macular degeneration
Additionally, too much UV light can often cause discomfort, even if you don't experience any other potential problems. Just remember that even if sunglasses block the sun's brightness and keep your eyes comfortable, it doesn't mean they are keeping the UV radiation out. We'll discuss UV protection coatings further down.
One last thing to remember is that sunglasses aren't only required when it's sunny outside. UV radiation can damage your eyes, even on a dreary, overcast day.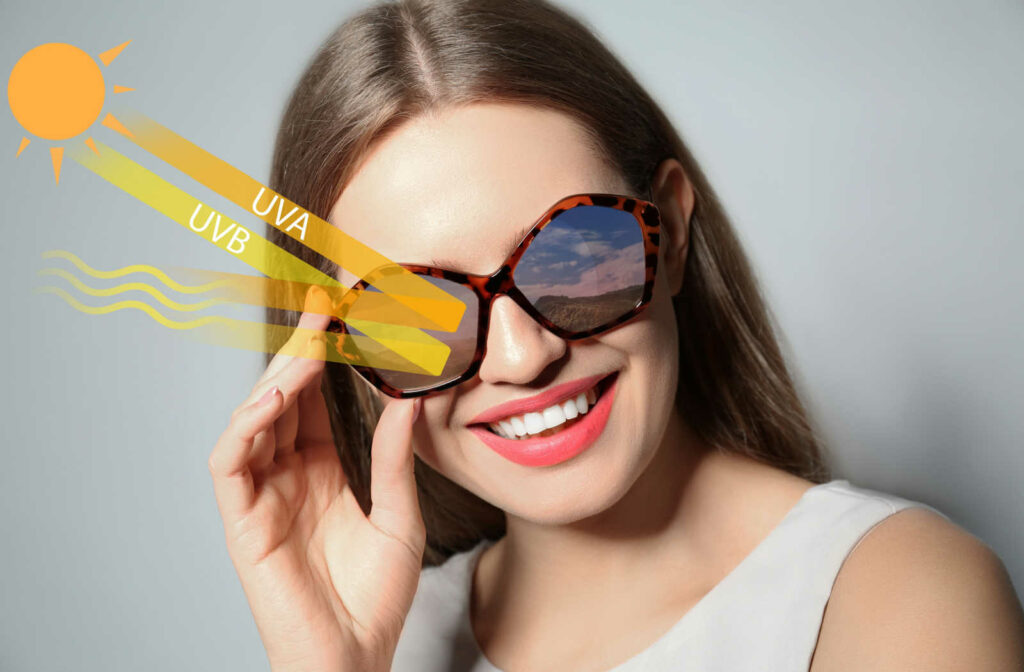 Benefits of Prescription Sunglasses
The actual benefits of prescription sunglasses vary between people. Each person has different daily activities, and each person's vision needs are different. Below are five significant benefits that these sunglasses offer.
Comfort
When purchasing prescription sunglasses through your eye doctor, the chances of them carrying high-quality products is good. And one thing that often comes along with quality is comfort. Finding frames that fit properly is still important, but that's usually easier to do with high-quality frames.
Lens Options
It's important to not be so focused on comfort that you ignore the lens possibilities of your new prescription sunglasses. For example, it's possible that a pair of sunglasses you grab off a twirly stand at the gas station would just be shaded lenses.
These would certainly provide comfort as they keep the bright sun out of your eyes. Unless they have UV protection, they aren't actually protecting your eyes from the potential damage from UV radiation.
When shopping for prescription sunglasses with your optometrist, you'll typically have multiple lens options, such as UV protection, polarization, or anti-glare. These can either match your regular eyewear or meet specific vision needs while you're outdoors.
Style
If you value the style that eyewear can provide, prescription sunglasses probably won't disappoint you. At CHROMA, we offer great brands like Dior, Maui Jim, Oakley, Ray-Ban, and Prada. Whether you're looking for something similar to your regular eyeglasses or want another accent altogether, we should have something to catch your eye.
Convenience
Being that they are prescription sunglasses, you'll need an up-to-date prescription to get them. But chances are high that you're visiting your eye doctor when looking at new sunglasses. It's worth calling ahead and booking your eye exam, then there's nothing holding you back from new prescription sunglasses.
Health
Good eye health is one of the most significant reasons for wearing prescription sunglasses. It may be tempting to skip the switch or clip to prescription sunglasses if you're not spending much time outside.
But suppose we can lower or eliminate the risk of eye diseases. In that case, there's no good reason not to invest in prescription sunglasses.
Buying Your Sunglasses From the Eye Doctor
Even if you don't need a prescription to see clearly, the above benefits apply to a quality pair of sunglasses. One thing worth considering is purchasing your sunglasses from an optometrist's clinic, regardless of your prescription needs.
In addition to the high-quality products that we carry at CHROMA, our eye doctors and opticians can provide you with expert advice regarding coatings or types of lenses. Even if you see fine unassisted, you may benefit from something like polarization or an anti-glare coating.
Discuss Your Next Pair of Sunglasses With CHROMA
You aren't limited to only one or two options when considering prescription sunglasses. We have an extensive selection of sunglasses frames at CHROMA modern Eyewear Eyecare. They can be customized with your prescription, and you can discuss several options regarding coatings with our professional team.
You may also already have a non-prescription pair of sunglasses that you love. In most cases, our skilled opticians and doctors at CHROMA can use your own frame and update the lenses to be prescription sunglass lenses and even match the tint to your preference. If finding the right frame style is holding you back from the benefits of prescription sunglasses lenses, we can simply swap out your regular lenses for prescription lenses once we determine your accurate prescription. If you're curious about specific brands or anything else, reach out and talk to us today. We're happy to answer your questions or get you in for an up-to-date prescription.