If you're skeptical about how glasses can affect your appearance, stop us if you've heard this one before:
"Wow, you look so different with your new glasses!"
It's a common saying, but it perfectly showcases just how powerful a pair of beautiful frames can be. As soon as you take them off or put them back on, people notice. And it's that kind of effect our optical team strives for when we begin searching for your next pair of specs.
Finding beautiful glasses isn't rocket science, but it can be a process. It's important to try on different pairs to see the effect it can have on your look, and there are numerous ways we can help shorten your search.
At the end of the day, it's all about accenting and enhancing your natural beauty. Our experience has helped thousands see and look their best, and we'll be happy to show you how a fresh look can turn heads in every room you enter.
Call us today to request an appointment!
Determining Your Face Shape
Every face is different, but we all have a certain face shape. And the best-looking glasses always, always, always, compliment your face shape.
Determining your face shape isn't hard either—all you really have to do is look in the mirror. But if you're not sure what type of face shape you have, our team will be more than happy to lend a helping hand.
If you haven't already, we highly recommend getting an eye exam before we start looking for eyeglasses. Examining your eyes can provide your latest lens prescription, and we can pair your frames with lenses suited to your needs.
If you already know your face shape, take our quiz to see which frames might suit you best! Otherwise, read on to learn about our recommended styles.
Round Faces
Round faces feature smaller cheeks, chins, and foreheads. Features around the jawline and cheekbones are also generally softer.
For these faces, we generally recommend square or angular frames to help sharpen your natural features. Your frames should be just a touch wider than your face and should also feature thicker rims, as they can help your features look a little longer and slimmer.
Square Faces
Square faces can be quite angular, with the width between the forehead, cheeks, and jaw being quite similar.
The goal here is to soften those angles with more round or oval frames that are just a little bit wider than your cheekbones. Thinner rims can also help ensure your glasses don't overwhelm your face.
Oval Faces
Oval faces have wide cheeks similar to round faces but are slightly longer in the jaw and forehead.
However, the strategy here is similar to round faces: look for bold, angular frames to sharpen your features and add definition. Oval faces have a lot of room to play around with, so don't be afraid to experiment with different styles and textures!
Heart Faces
Heart faces are unique because they are the widest around the eyebrows but more narrow near the chin and jaw.
Heart-shaped faces also have many options to choose from; rectangular frames can help balance the contrast between your chin and forehead, while rounder frames can soften your more angular features beautifully. Thinner rims and wider frames often make the most impression on these types of face shapes.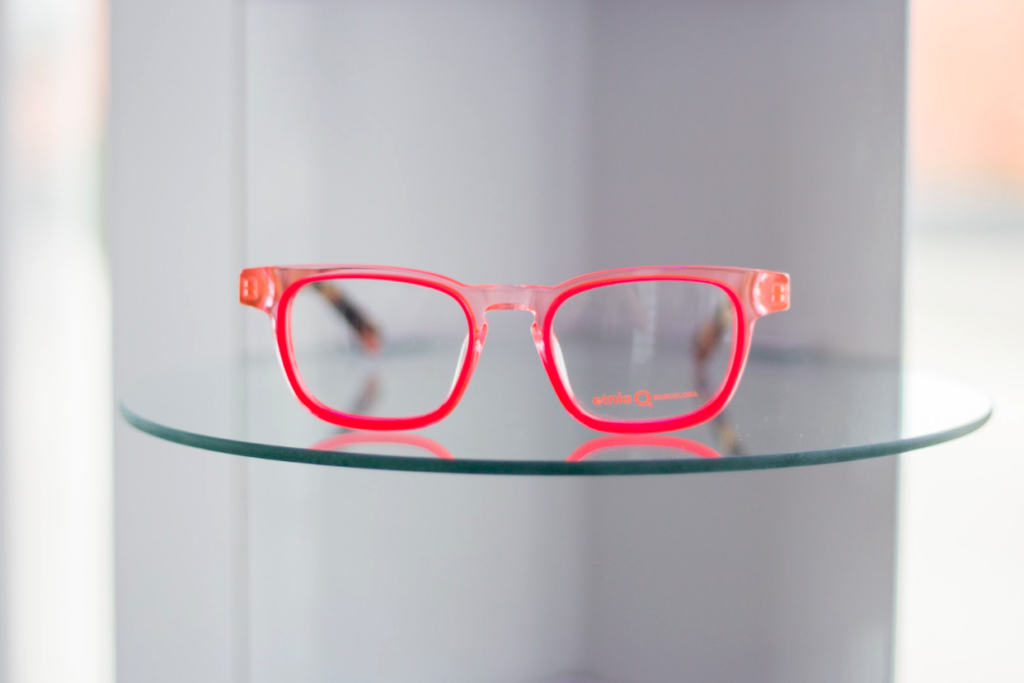 Choosing Your Frame Color
Choosing the color of your glasses can seem daunting at first, but there's no need to worry about being swamped with options. When it comes to choosing the right colors for your frames, you only need to look at your own natural colors and tones and determine how you want your glasses to support them. To make your options simple, consider your hair, eye, and skin tones.
Ultimately, it depends on your goal: do you want to subtly match your natural colors, or do you want to use contrasting colors to make your features pop? Colors work best when they either match or contrast your own natural features.
For example, if you want to pair your frame color with blue eyes, you could choose a matching color like brown or tortoiseshell. Or, if you want to contrast them, pick red or yellow tones to really draw attention to your eyes.
What's Your Lifestyle Like?
Choosing your frames doesn't always have to depend on aesthetics (although it is an important part). You want frames that will also suit your lifestyle. This is when you should start considering your frame materials.
We offer an assortment of frame materials you can choose from, and our team can recommend the right kind depending on what you do day-to-day.
For example, Monel nickel alloy is the go-to choice for many frame designs, but these might not offer the durability you want if you play sports or work in labor-intensive jobs like construction. You may want to look at Glimades and Grilamid thermoplastic or stainless steel for these situations.
If you're looking for something that screams "high fashion" from the mountain tops, you may want to consider the magnesium-made designs we have to offer. Take a look at our frame materials page for a comprehensive list of what we have to offer!
Visit Our Optical Team for the Latest Trends
CHROMA modern Eyewear Eyecare is proud to be your one-stop-shop for all your eyeglass needs.
With the right pair of frames, everyone will take notice. Visit our experts today by requesting an appointment.