Scheduling an annual eye exam helps keep your vision sharp and monitors your eyes for the presence of eye diseases. But when your eyes aren't bothering you, Scheduling an eye exam may not be a priority.
A comprehensive eye exam can take between 20 to 60 minutes. Reserving the time out of your busy life to check your or your children's eyes is worth it to keep your eyes healthy.
What Determines How Long an Eye Exam Takes?
Not all eye exams are the same. The length of your eye exam can depend on a few factors, including:
If you're a new patient to CHROMA modern Eyewear Eyecare
If you have pre-existing conditions that may require our Doctors to dilate your pupils.
Any previous eye injuries or disorders
If you are experiencing any vision changes or other symptoms that might lead to vision loss without proper evaluation.
At CHROMA modern Eyewear Eyecare, comprehensive eye exams are personalized to you, so your eye health needs are met with each appointment.
What Happens During an Eye Exam?
Comprehensive eye exams include a series of short, non-invasive tests to measure and observe your complete eye structure and vision.
Visual Acuity Test
A visual acuity test measures your ability to see shapes, words, and details from a distance. Our CHROMA optometrists use the classic Snellen chart to measure how well you can see from a standardized distance.
Using symbols or letters, the Doctors at CHROMA will ask you to read the chart out loud with both eyes and again with a single eye on both sides. This test lets our doctors know what kind of vision correction you need, if any.
Refraction
Refractive errors are widespread with more than 150 million Americans experiencing:
Myopia (nearsightedness)
Hyperopia (farsightedness)
Astigmatism
Presbyopia
If you're experiencing eye strain, blurry vision, headaches, or notice yourself squinting, the refractive error test can help uncover the problem and determine what type of corrective lenses will give you crisp, clear vision.
Retina Exam
​​At CHROMA, our state of the art equipment can help our Doctors examine the inside of the eye. This comprehensive and non-invasive testing and evaluation gives our Doctors accurate clear views of the retina, macula, optic nerve, and the blood vessels inside the eye. We want to find any eye health problems before they compromise your vision. Our equipment and the expertise of our highly trained Doctors and staff can accomplish just that.
At CHROMA, we also offer a macular wellness screener to all of our patients. This quick scan of the macular wellness screener can help our Doctors diagnose early stages of macular degeneration and other disorders that can be treated before they can decrease a patient's vision. Since the "macula" area of the eye is responsible for everyone's central vision and it's health determines whether a patient can see 20/20 or pass the driver's license test, the macular wellness screener is one of the most important parts of your exam at CHROMA.
Visual Field Test
A visual field test measures your peripheral vision to check for eye disorders and healthy eye movement.
Slit Lamp Evaluation
A slit lamp can provide a clear view of the cornea and surrounding tissue, such as the iris and lens.
Intraocular Pressure Test
To monitor the pressure in the eye, tonometry tests use a puff of air to determine whether your eye pressure is in the normal range. High intraocular pressure can indicate that fluid may not be draining properly. Tonometry is also the best test when trying to diagnose glaucoma.
We may use additional tests and measuring tools if you have specific eye concerns or are at higher risk of developing an eye disease to pick up on any early warning signs.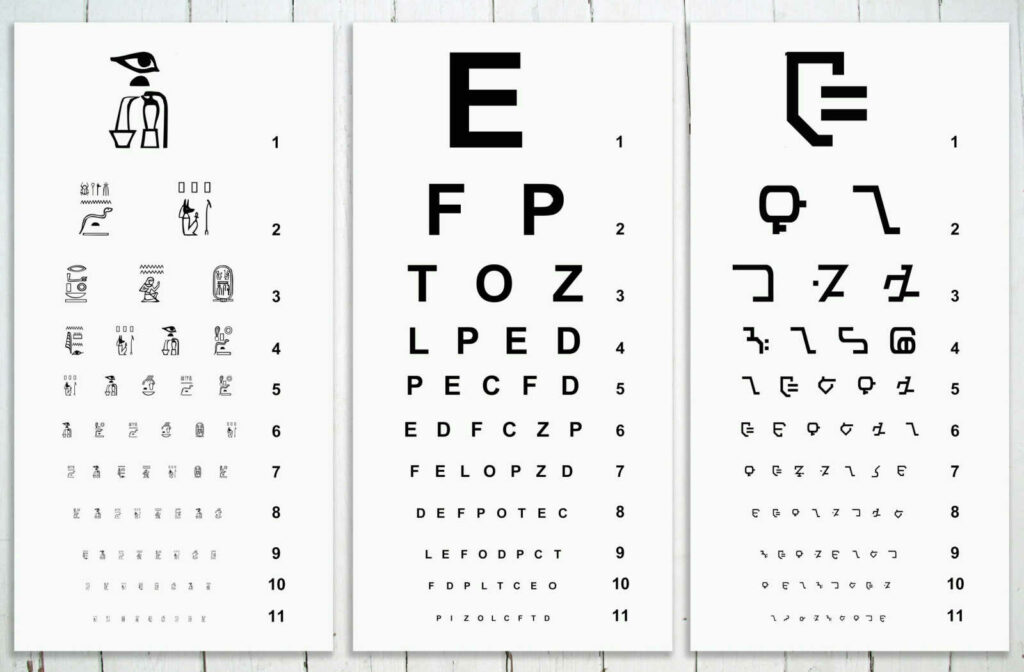 Is a Contact Lens Exam Different Than an Eye Exam?
Contact lens exams supplement a standard eye exam but shouldn't replace it. If you're new to contact lenses or are already a devoted contact lens wearer, contact lens exams have different goals than a traditional annual eye exam.
What Happens During a Contact Lens Exam?
Brand new contact lens wearers start with a fitting––the Doctors at CHROMA take some additional measurements and assess the health of the front of the eye and cornea before we recommend the right contact lens for you.
We'll discuss how you want to split time with your glasses. If you're looking to make contacts your primary corrective lenses or just want contacts for sports or special events, we'll review the options of daily, weekly, or monthly lenses.
During a contact lens appointment, we'll reference your annual eye exam tests to identify potential comfort problems like dry eye and determine the type of lenses you need based on your refractive errors.
Schedule Your Annual Eye Exam
Are you due for your next comprehensive eye exam? Contact us for an appointment for a thorough eye exam with the highly trained Optometrists at CHROMA modern Eyewear Eyecare and get your new prescription ready to shop stylish frames for a fresh look.